Welcome to the latest DarkSider News!
Snuggle up under the covers. Time to read another August edition of the DarkSider News...
NEW MEMBERS

H.C. Brown is a multi-published, bestselling, award-winning author of Romance.

In 2017, she was delighted to be named Luminosity Publishing's Bestselling Author of 2016.
In 2016, she was delighted to be named Luminosity Publishing's Bestselling Author of 2015.
In 2015, she was delighted to be named Luminosity Publishing's Bestselling Author of 2014.
In 2015, Highlander in the Mist was placed 3rd in Historical and Rock 'n' Leatherwas placed 3rd in the Easychair Bookshop Competition.
In 2015, Highlander in The Mist was nominated in The Romance Reviews 2015 Readers' Awards.
In 2011, she was delighted to receive nominations in three categories in the 2011 CAPA Awards: Favorite Author, Best Romance, and Best Science Fiction Romance.
She was nominated for Best Historical in the 2013, Goodreads Book of Year Awards.

H.C has traveled the world and lived in small country towns and big cities, she uses her wealth of memories to create memorable stories about strong alpha male heroes and girl next door heroines..
Elizabeth M Darcy
Elizabeth M Darcy- Romance One Word At A Time
Born in London, England and now living in Australia, Elizabeth spent twenty years in a small rural town before moving to the coast. She enjoys the thrill of writing romance and creates stories that will remain with the reader long after the final page.
RWA (Australia) Mentor
RWA Critique Program
Awards:
2007- RWA - CLAYTON'S BEST KISS
2011- CAPA - NOMINATION FAVORITE AUTHOR
2011- CAPA- NOMINATION BEST SCIENCE FICTION
2013- GOODREADS NOMINATION BEST HISTORICAL BOOK OF YEAR
D.K. Hood
I've always had a wicked sense of humor, and was the kid who told the ghost stories around the campfire. I am lucky to have family all over the world and have spent many wonderful vacations in places from Paris France to Montana USA and Australia. I use the wonderful memories from these visits to enhance my stories.
My interest in the development of forensic science to solve crime goes back many years. I enjoy writing crime, mystery and thrillers. With many stories, waiting for me to write I'll look forward to sharing many spine tingling stories with you.
D.K. Hood is an active member of International Thriller Writers.
The Four Horseman series
by
LJ Swallow
is now in box set for Books 1-3.
What's worse than being pursued by the Four Horsemen? Discovering you're the Fifth.
Dive into this urban fantasy series from USA Today bestselling author LJ Swallow. Prepare to follow the lives of Vee and the Four Horsemen through addictive books filled with action, supernatural suspense and magic. Discover why readers have fallen in love with the books--and the Horsemen!
PRE-ORDERS
The Crying Season
by
D.K. Hood
is Book 4 in
Detectives Kane and Alton
series and is expected for release by
Bookouture
on 18th October.
The light fades as she runs for her life, the forest now becoming quieter around her. The only noise she hears is the sound of footsteps following her...
It's hiking season in Black Rock Falls and the small town in Montana is flooded with visitors. But when a hiker finds a human skull on a deserted trail in the woods that surround the town, Detective Jenna Alton is called in to investigate.
With no missing persons reported, Jenna has no leads. Then her team makes a shocking discovery – the body of another hiker, a young man, tied to a tree and riddled with bullets. Could the two murders be linked?
As more bodies are found, Jenna and her deputy David Kane know that they must venture deep into the forest to find and face the killer. But nothing can prepare them for what awaits them there…
COVER REVEAL
The covers of first two books in the new series,
Team 52
, by
Anna Hackett
has been revealed.
Book 1 is
Mission: Her Protection
and due for release 14th August.
Mission: Rescue scientists and retrieve artifact from Arctic research base in Canada
Hero: Team 52 leader, Commander Lachlan Hunter
Heroine: Arctic research base leader, Dr. Rowan Schafer
Artifact: Classified
Book 2 is
Mission: Her Rescue
and due for release 9th October.
Mission: Classified
Hero: Classified (psst, he's from Team 52!)
Heroine: Classified (psst, she's an archeologist)
Artifact: Classified
Destination Romance
is and anthology, which will feature
Carolyn Wren
. It is expected to be released
by
Serenity Press
in October.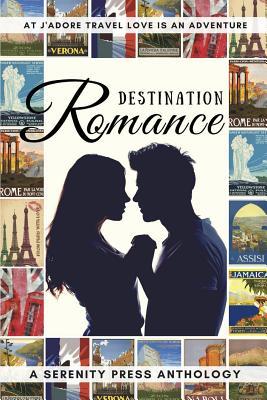 'I want to see something of the world.'
Ten travellers with escape on the mind get an unexpected bonus when they stop by J'Adore Travel Boutique in Heart Springs. One by one, travel agent Maggie Redmont books them into the trip of a lifetime … and they have no idea their journey will lead to Destination Romance.
A London pub brings the past to the present. A cruise cures a fear of water. And a 'Golden Oldies Coach Tour' gets one couple out of the rut in more ways than one. Travel the highway of love with ten Australian authors, who deliver heart-warming stories of fresh starts and second chances, of healing and connecting, of temptation and desire.
From country New South Wales to the high seas, from London to the Greek Isles, Provence, Paris, Thailand, New Zealand and more, there's a romantic destination for everyone, proving that love is all around us. And, that reaching a destination is only the beginning.
Passion in Flames
by
Carolyn Wren
is book 2 of the
Love Under Fire
series. It is expected to be released
by
Serenity Press
soon.
Simon Winters has a reputation for undertaking adrenalin-filled assignments. But even thrill-seekers need some down time. After an arduous desert mission, he asks for a more enjoyable assignment. Preferably involving a beautiful woman and a fast car.
Dr Elizabeth Barrett's life was peaceful and methodical until someone tried to burn down her research laboratory with her inside. Now she has to contend with a handsome, flirtatious agent living in her home, who has an annoying habit of putting her in more perilous situations than he keeps her out of.
The danger escalates as a straightforward mission turns deadly. Someone wants Beth and her research dead.
Will the charismatic agent and his sexy scientist escape with their hearts, and their lives, intact?
Glittering Obsession
by
Carolyn Wren
is Book 3 of the
Love Under Fire
series. It is expected to be released
by
Serenity Press
in September.
Bryce Black can invent, build, or hack anything. Preferring to leave the danger to his fellow operatives at the agency, Bryce is happiest designing gadgets, and pursuing his hobby of creating replica diamonds. He accepts an assignment protecting a fortune of real gems on a blockbuster TV show, and finds himself unexpectedly falling for the lead actress.
Katrina Abbott is determined to walk away from her acting career. The loss of privacy and invasion of her personal life have become overwhelming. Bryce has her contemplating a new life, far from the glaring spotlight. But first she needs to film the finale of her wildly popular series.
One obsessed fan does not want the show to end, and has a decidedly different view of what Katrina's future should be.
Catching up on the releases missed
(as pages on website are being updated)
Lonely Hearts
by
Lilliana Rose
is Book 4 in
The Clockwork Mysteries
series. It was released by
Infinity Dreaming
on 20th January.
Vickie is kept busy with her private eye business. Her success depends on solving personal mysteries and helping clients, but she has too many cases and is overloaded. Her work is consuming her day and night, and she pushes her husband George away, putting her passion for her work ahead of her relationship.
George gives her an ultimatum.
The tension with George, the stress of attempting to solve a case, might prove to be too much for Vickie.
Vickie loves her work, and when helping people, she finds it becomes hard to say no.
Can she balance both in her life?
Dragon Dare
by
Lilliana Rose
was released by
Evernight Publishing
on 19th March.
Argo Master, a dragon shifter, has vowed to live a bachelor lifestyle—until he meets Mia Green, a coffee shop owner who is strong and sassy. She's a woman who matches his dragon strength, and dares him like no other woman has before. Will he give up his unattached lifestyle for her?
Mia has been running her coffee shop, Café 21, for two weeks and is weighed down with stress and responsibility. When Argo comes in for a coffee at closing, his mysterious approach hooks her in. Will she still be attracted to him once she learns he's a dragon shifter?
Can they each give up control in their lives and change their expectations in order to find lasting love?
Sceptic
by
Lilliana Rose
was released by
Infinity Dreaming
on 25th April.
The Darkness calls to Dazz. Is it too late for her to fight back and choose life?
Dazz has given up on life. On her family. Her sister. Her only friend. On herself. She wants out. Instead of wanting to finish her last year of high school she takes her own life. That's when something extraordinary happens.
Dazz has a fascination with the Victorian Era and especially insane asylums. She finds herself pushed back in time to 1880 and trapped inside one—Z Ward, Parkside, in Adelaide Australia to be precise—and she's a ghost.
Dazz is not alone. Bertie, a young man, a few years older than her, who's usually strapped to the bed to stop him from hurting himself, is also there. She tries hard to resist a connection forming between them, but Bertie has a knack of helping her like no one else can.
Filled with regret, can Dazz fight for the life she so despised and uncover a way back home?
Bring Me Flowers
by
D.K. Hood
is Book 2 in
Detectives Kane and Alton
series and was released
by
Bookouture
on 26th February.
She didn't know he was watching. Until it was too late.
She'd walked this path hundreds of times before, she knew every twist and turn. But today was different. She didn't know someone was waiting for her, hidden away from view. She didn't know this was the last time she'd walk this path.
Hidden deep in the forest, schoolgirl Felicity Parker is found carefully laid out on a rock with nothing but a freshly picked bunch of flowers next to her lifeless form. Detective Jenna Alton is called in to investigate the gruesome discovery.
With the body found just off a popular hiking route, Jenna believes the killer is a visitor to the town… until a second local girl is discovered.
Within days, Kate Bright, a school friend of Felicity's, is found brutally murdered at the local swimming pool and once again, the killer has displayed his victim in a terrifying manner and left flowers at the scene.
The town is gripped with fear and Jenna and her deputy, David Kane, now know that the killer is living among them, and that he's picking off school girls one by one. But they don't know who is next on the list.
As the trail goes cold, Kane and Alton are forced to sit and wait for the killer to make his next move. But now he has a new victim in his sights, and he's looking much closer to home …
Follow Me Home
by
D.K. Hood
is Book 3 in
Detectives Kane and Alton
series and was released by
Bookouture
on 7th June.
'Don't you agree Detective? That some people deserve to die? I've killed the first. I've killed the second. Now will you catch the others, or do I have to kill them too?'
The body of Amos Price lies in a pool of blood on the polished floor of an otherwise empty house. With no signs of a break in, and no clues left at the scene, Detective Jenna Alton is at a loss.
But as the team begins to unpick the life of the reclusive victim, they discover a disturbing link between Amos and the disappearance of several young girls in the county going back years.
Days later, another brutally murdered body is found, in a remote motel on the outskirts of town. Ely Dorsey was killed in a frenzied attack and Jenna fears not only that the murders are connected to the missing girls, but that the killer hasn't finished yet.
As Jenna tries to work out who will be next, the killer suddenly starts sending her deputy, David Kane, messages. Is she being taunted? Or does the murderer want to be caught? And will Jenna discover who's behind these killings before more people die?
Angel in the Baking
by
Carolyn Wren
is novelette released by
Serenity Publishing
on 1st January. It first appeared in the anthology,
Bouquet of Love
.
Angel in the Baking is a light hearted, fun filled story about opposite attraction, and shared passion.
When Angelo Hart decides to spread the news of his new bakery to the occupants of Eagle Points bustling, trendy café strip, he didn't intend the result to be so physical. After crashing into Mr Tall, Dark and Obscenely Handsome, smearing him with lashings of squashed cupcake, Angelo flees the scene of the crime and hides in his pop-up shop. His victim seeks him out, and instead of threatening legal action, Kyle offers Angelo a job.
Kyle Waters' chance to debut his designs in a fashion parade at Serendipity Bridal Boutique have been thwarted by a catering disaster, so when the universe throws a cute as a button red headed baker into his path, Kyle seizes the moment and hires him on the spot.
In the midst of fashion chaos, with missing models, clothing catastrophes and angel wings, can a flamboyant, flirtatious, wannabe designer and a shy, self-conscious baker find romance within the eclectic walls of Serendipity?
Notes of Desire
by
Carolyn Wren
is Book 1 of the
Love Under Fire
series. It was released
by
Serenity Press
April.
Jared Knight works for international governments together with a select group of colleagues, tracking down the worst criminals humanity has to offer. His highly secretive and dangerous profession leaves no time or freedom for relationships, especially not with the gently raised daughter of a prominent diplomat who catches his eye in the glittering ballrooms of Monaco.
Despite his attraction, he vows to keep Cecilia Benedict in his past, until an unknown stalker threatens her future.
Cecilia has been receiving letters from an admirer, one who knows far too much about her. Her father seeks help in dealing with the growing menace and Jared steps out of the shadows to become her protector. Cecilia finds herself intensely intrigued by this quiet man with deep grey eyes, and when they are emotionally thrown together, he becomes so much more than just her bodyguard.
But someone is biding his time in the shadows, threatening to destroy their relationship before it can even begin.
Blog posts
D.D. Line
has a
lovely poem
on her blog written for her daughter who has turned 18.
Christina Phillips
visited
Forget The HouseWork I'm Reading
blog with her release,
Once Upon A Player
.
Juanita Kees
has author
Lee Christine visit her blog
talking about a book Juanita has read.
Events
We have so many names attending upcoming events, that an addendum to this post will be posted a little later today.
ON THE WEBSITE
Pages that have been created or updated:
Kelly Ethan
,
H.C. Brown
,
Elizabeth M. Darcy
,
D.K. Hood
,
Louise Cusack
,
Carolyn Wren
, and
Lilliana Rose
.
Congratulations to all our DarkSiders!
Thanks for reading our news. We'll see you next time...