Welcome to another DarkSider News for October!
This is part three.
Click the links to view part one and part two
Ash
by
Anna Hackett
is book 14 in the
Hell Squad
series. It was Indie Published on the 3rd October.
In the middle of an alien invasion, will the bad boy berserker catch the geeky tech genius?
Computer genius Marin Mitchell is doing her part to help humanity survive the raptor invasion, working tirelessly to decrypt alien data. She spends her days working and drooling over a certain tattooed, biker berserker from Squad Three. But Marin knows the rules: geeks do not snag sexy bad boys. She spends her nights playing her favourite computer game where she is a kick-butt badass, and a match for her mysterious online fight partner, SuperSoldier3.
A member of the Squad Three berserkers, Ash Connors knows that whenever he reaches for something good, life slaps him back down. He gave up on his dreams a long time ago, and instead, focused on running his motorcycle club with his best friend. But after the alien invasion, he does what he does best, fight and take down the aliens. When cute, smart, and sweet Marin catches his eye, he tries to steer clear, but can't seem to stay away...online or in real life.
When Marin discovers information about a central alien data hub, her skills are needed to hack into the system. That means a deadly mission deep underground, right into the heart of alien territory. That throws her right into Ash's tattooed arms. As the sexy berserker fights to keep her safe, he also vows to show Marin that while she might follow the rules, he likes to break them.
Note to readers: This sci fi romance contains a lot of action (dangerous missions and deadly aliens), tough warriors (the badass berserkers of Squad Three) and a steamy romance (lots of sexy times between a sexy former biker and a smart, geeky gamer). So if you like it fast, and gritty, and sexy, this is for you!
Army Boots and Stilettos
by
Carlie Simonsen
is the first book in the Space Adventures series. It was published by C.M. Simpson Publishing on 20th October.
Cord thought boarding school was a long way from home—until she was chosen for a traineeship with Bluebirds Mining. After that, who knew where home might be? Or how to get back to it? Or even if she could. With her mind playing tricks on her, and her best friend in the same boat, Cord is in it, but deep. Now, all she has to do is find a way out.
Inheritance of the Blood
by
Imogene Nix
was published by
Loves Books Publishing
on the 1st October.
In the darkness evil waits...
As a young bride Kira was whisked away from everything and everyone she knew, including her new husband and became Christina, an operative of the Displaced Persons Unit.
As the danger grows she sees an opportunity to save her husband Vasya and sister Serina. But nothing is the same. Serina is grown up—married and pregnant.
Vasya too is older and darkly forbidding. Trusting Christina doesn't come easily until a catastrophic event takes place. Now, knowing the truth everything he thought he knew is changed. But at a very high cost.
The four must work together to defeat the Demon, Zuor and the stakes are higher than they imagined and all could be lost.
Secrets, Spells, & Murder
by
Janni Nell
is book one of the
Little Shop of Spells
series. It was published by
BOCHOK Publishing
on the 22nd September.
Small-town witch, Maddie Goodcharm, is in trouble. Someone is hexing the inhabitants of Silver Moon Falls and Maddie is the main—make that only—suspect. When one of the townspeople dies in suspicious circumstances, Maddie is accused of murder.
With the help of her friend, Autumn, Maddie struggles to clear her name. But facing a murder charge isn't her only problem. Sometimes spells go wrong and Maddie has accidentally bespelled a hiker. Jason's not in a good place, literally, and Maddie has to come up with a reversal spell ASAP. Which she can't do if she's in prison. The only way out of her dilemma is to find the real murderer.
Now Maddie is on the trail of a killer and magic may be the only thing that will save her.
The Magician's Keeper
by
Nicola E. Sheridan
will be published by
Escape Publishing
on the 4th November.
A brand new steamy paranormal romance about learning to love all of yourself.
In a world where people judge one another by exacting standards of size and style, being a big girl like Eudora Splat was never going to be easy.
Though trouble is brewing between magic folk and human purists who would see them all destroyed, Dora, a half-giant, tries to eke out a quiet, unnoticed life for herself, but it's hard to be subtle when you're over seven feet tall.
Losing her job as a gardener due to human complaints, Dora is recruited as a prison guard, where she's enlisted to protect the magician Evander "Bear" Gordon from human purist attack. Bear encourages her to embrace her power and celebrate her heritage, introducing her to a world where she can be extraordinary and not just weird.
But after years of hiding and shying away, can Dora find the strength to grab onto a new life — and hold on to the man she's falling in love with?
Buy links
are available from Escape Publishing
Beast
by
Anna Hackett
is book 7 in the
Galactic Gladiators
series. It will be Indie Published on the 31st October.
Beast man. Blue. Vek. Our next Galactic Gladiators book stars the wild, blue-skinned alien rescued from the underground fight rings and small, blonde spaceship pilot Mia.
Read an excerpt
See the three previous releases in this series below in the previous 2017 releases section...
The Contract
by
Ellie Moonwater
is the first book in the Mentraden Training Centre series. It was released in July by C.M. Publishing.
Blackmailed into a course on being a submissive, Eunice plans to do everything she can to keep her mother and sister safe from her greedy employer, but when she encounters the Mentraden brothers, she discovers not only a whole new world, but a whole new meaning for the word 'trust'. The only question is: Can she trust them to look after her the way dominants should, and, more importantly, can she trust them to save her family, too?
WARNING: The Contract contains light bondage, slave-capture fantasy, multiple partners, bondage, and explicit, kinky and consensual sex. It is not suitable for readers under 18 years of age.
Blood Chance
by
Mel Teshco
is a novella that was revised and published by
Totally Bound
on the 1st August.
To save her dying mother, Kia must suppress her loathing of everything vampire to track down the oldest and most deadly bloodsucker of them all.
All dhampir Kia Montana has left in the world is her mortal mother, and Kia will do everything in her power to save her mum from dying. She sets off to track down the Ancient One, Sean Maximillus. He is the one and only vampire capable of reversing her mother's condition.
Instead she finds Ronan, a gorgeous and mysterious man who promises to take her to the Vampire Lord…after he's taken her to bed. But Ronan seems to know too much about Kia—things she never told him, and she is soon drawn deeper into his world, where he will reveal secrets that will change her life forever.
Dead Lady Vanishing
by
Janni Nell
is book two of the
Bolde and Baulsey Mystery
series. It was published by
BOCHOK Publishing
on the 22 February.
I'm Natasha Bolde and I see ghosts, well one ghost anyway: Clover Skye Baulsey, PI. In life, she was my best friend and mentor. In death, she's been my rock, my conscience, my shelter. I'd follow her anywhere, but I really wish I hadn't followed her to Britain's Wildfinch Hall, because that's where she disappeared.
The last thing she did was call for my help. Since I don't know much about the spirit world I called Joe Nettleford, who moonlights as a ghost hunter. He's good as what he does, but it's kind of awkward since I refused to date him. So now I'm not sure what's going to be more difficult: working with Joe or untangling the secrets of Wildfinch Hall and its ghosts. Still I'd better find a way to succeed at both. If I don't, I'll never see Clover again.
Catopia
by
J.L. Addicoat
was Indie published on 28 June.
How far would you go for the one you love?
Conrad longs to give his wife the child she desperately craves. Rendered infertile by a mutated virus in early childhood, Conrad has undergone numerous tests and trials only to fail time after time.
Learning of an experimental fertility serum trial taking place at the University where he works, he races to the department to be placed on the list. Finding no one around, he locates the serum and injects himself.
What could possibly go wrong?

Starline, with bonus novella The Star of Ishtar by Imogene Nix is book 1 of Warriors of the Elector series. It was Indie Published on 1st May and is a reissue.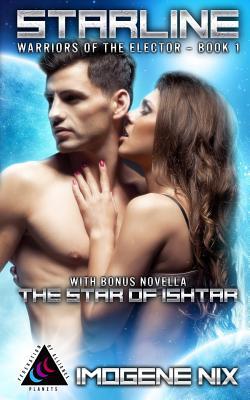 One man, one woman, one psychotic alien. The race is on to save humanity. Past, present, and future.
Mellissa Davis is your average bookstore owner and aspiring romance author until one day an electronic bookpad slides through the mail slot of her small store. Now all she has to worry about is a sexy, time-traveling stealth ship captain, staying out of the way of the bad guy, and saving the universe. Not much to ask...
Duvall McCord, an up-and-coming space captain, travels to the past to stop the Ru'Edan leader's plans to destroy the Earth Empire before it can be formed. His mission? Retrieve the handbook for the Elector. He doesn't count on saving a woman who intrigues him or having to bring her back to his time in order to keep her safe.
Time is running out. They must do whatever they can to stop the plot, but will it be enough
Buy links
are available from Imogene's website
Protector
by
Anna Hackett
is book 4 in the
Galactic
Gladiator
series. It was Indie Published on the 26th February.
Fighting for love, honor, and freedom on the galaxy's lawless outer rim…
Cool and driven Madeline Cochran made a successful career for herself as civilian commander of a space station orbiting Jupiter…until the day it was attacked and she was abducted by alien slavers.
Her organized existence shattered, Madeline suffered during her captivity, but since her rescue by the tough gladiators of the House of Galen, she's struggling to assimilate to her new life. As she navigates the desert world of Carthago and the gladiator city of Kor Magna, she desperately misses her teenage son back on Earth and throws herself into finding another human, space marine Blaine, still kept captive by the slavers. She also finds herself working harder than ever to avoid a certain charming showman gladiator who is far too attractive and far too tempting.
Gladiator Lore Uma-Xilene is a protector at heart and a sucker for a damsel in distress…although he's well aware that the hard-shelled and sad-eyed Madeline wouldn't appreciate the title. He knows what it feels like to be ripped from the family you love and have your life destroyed, and he wants to help Madeline heal. As the two of them go undercover into the dangerous world of underground gambling, Lore knows he'll need all his patience, passion, and a whole lot of stubbornness to not only keep Madeline safe but to melt the icy shell around her heart.
Champion
by
Anna Hackett
is book 5 in the
Galactic
Gladiator
series. It was Indie Published on the 26th March.
Fighting for love, honor, and freedom on the galaxy's lawless outer rim…
Space marine Blaine Strong enjoyed being a composed, controlled member of space station security…until he was abducted by alien slavers. Forced into underground fight rings and pumped full of drugs, he's now seething with anger and out for revenge.
Rescued by gladiators and fellow humans on the desert world of Carthago, Blaine is fighting to be the man he once was. But when the House of Galen is attacked, he must focus on joining the gladiators to fight back. That means teaming up with a tough, competitive female gladiator who not only challenges him at every turn, awakens a fierce desire he's never felt before, but a woman who can sense the churning emotions inside him.
Gladiator Saff Essikani is the best net fighter in the Kor Magna Arena. Raised from young to fight, she bows to no man and uses her empathic abilities to win at whatever cost. With her House targeted and people under their care threatened, she'll stop at nothing to find those responsible. But then she finds herself face to face with a big, tortured man from Earth who affects her like no man before. As Saff and Blaine head into the desert to uncover a conspiracy, their incendiary desire flares hotter than the desert suns. But as Blaine's angry emotions rage out of control, Saff knows that unless he learns to embrace the man he is now, he has no chance of survival.
Barbarian
by
Anna Hackett
is book 6 in the
Galactic
Gladiator
series. It was Indie Published on the 26th June.
Abducted by alien slavers, experimented on, and left blind, the last thing doctor Winter Ashworth needs is a big barbarian gladiator in her life, especially an annoying one who thinks she's small and weak.
Rescued by gladiators on the desert world of Carthago, Winter is doggedly working to embrace her new life. But two of her friends are still missing and she'll do anything to help get them back…even if she has to work alongside Nero Krahn: hunter, barbarian, gladiator. The scowly, brooding man is too big, has too many muscles, and pushes all her buttons.
Nero is the House of Galen's best hunter and tracker. Raised on a barbarian world, where strength and might are prized, he was bred to hunt and fight. Now the arena is his home and his loyalty is to his imperator. He knows he can use his skills to find the two lost women, even if that means protecting a small blind woman who takes every chance to misjudge his words and lash him with her sharp tongue.
But as they follow a dangerous trail to save their friends, a new enemy emerges—one who wants Winter. The pair find themselves reluctantly attracted to each other, uncovering a scorching desire that shocks them both. As Nero fights to protect Winter, the barbarian gladiator will discover the true meaning of strength from the small Earth woman he wants to claim as his.
Buy links
for each Galactic Gladiators title is available on Anna's website.