Welcome to the latest DarkSider News!
April brings lots of goodies...
Welcome to the DarkSiders, Lana Pecherczyk!
Lana Pecherczyk is a freckle-faced writer from Perth, Western Australia. She's a fan of 'pro-caffeinating' and writes in Urban Fantasy and Paranormal Romance. Basically if it's got sexy heroes, thrilling action and a kick-ass heroine, you know she'll write it because she loves reading it. When she's not writing the next great novel, or wrangling the rug rats, or rescuing GI Joe from the jaws of her Kelpie, she fights evil by moonlight, wins love by daylight and never runs from a real fight. You can find her books on Amazon and other good online retailers.
NEW RELEASES
Soul Thing
by
Lana Pecherczyk
is Book 1 of
The Game of Gods
series
and was released by Prism Press on 20th February.
After a decade long war, witches have been obliterated, or so the world thinks. A precarious peace settles and, for the small town of Margaret River, life returns to normal, but for Roo, the hard work is just beginning.
Roo works at the local bar, is a little facetious and can't wait to high-tail it out of there to keep her powers secret. She's not certain where they came from but the last thing she wants is to be burned at the stake. Hiding in plain sight seems to work until Cash, a darkly handsome hunter, arrives with disaster in his wake. Witches aren't defeated, only hidden, and there's one gunning for Roo and her family. The recent war only touched the surface of the preternatural world and with Cash's help, Roo learns there are worse things that go bump in the night... and she might be one of them.
Soon she must make a choice—risk exposure to save her loved ones, or remain hidden and safe. But sometimes safe isn't an option. Sometimes safe is a never-ending game.
EVOLUTION IS THE GAME, WITCHES ARE THE GLITCH.
The Devil Inside
by
Lana Pecherczyk
is Book 2 of
The Game of Gods
series
and was released by Prism Press on 6th March.
GOD. HUNTER. OTHERWORLDLY TRICKSTER. PLAYER.
Cash's soul was falling apart—literally. That was until Roo, his beautiful progeny, stuck it back together. He returns to his home town intending to train Roo and prepare her for the Game but demons from his past scratch from the inside and when he wakes from a nightmare, almost killing her, he decides she's better off without him. While he runs from one responsibility, others are thrown in his path. Soon he's faced with the devastating results of his retreat, and learns that while Roo may have fixed his soul, he broke her trust. When the truth about her identity comes out, Cash must overcome his doubts for the sake of her life, but can he overcome his demons in time?
Marc is a god. The god of the in-between. The messenger between the worlds, traveller between the dimensions, otherworldly trickster, shameless lover of all things. You may have heard of him, he's been known as Hermes, Hoth, Loki … He'd be able to gloat more about his status if it wasn't for the fact his years have left him a little flakey and his position has kept him tethered to the world of men. He's on a mission to uncover the truth about the hunter's inception so he can foil the plot to overthrow the Queen, and if he impresses the new racy red-headed Player, then props to him. But when a way out of his long service is presented, he's left with a choice: take it, or follow his new friends into a battle they might not win without him.
SECRETS ARE REVEALED AND PROMISES ARE MADE.
Dreams of the Serpent
by
C.M. Simpson
is a short science fiction story set in the Odyssey universe and was released on 7th April.
When the contract's done, and you're fleeing for your life, the company's supposed to be on your side, right? Am I right? So, you tell me what happens when the company understands the contract wrong, and you get stuck somewhere you really don't wanta be. You tell me how I'm gonna make it back to the stars.
Dear Tiger: Let's Go A-Hunting
by
Carlie Simonsen
is Book 5 of
The Tiger Letters
series and
will be released by
C.M. Publishing
on 12th April.
Several solar systems apart, Simone and Tiger must work together to rescue Marrietta before FedExplore terminates her as an experiment gone wrong. It's a race against time, complicated by the increasing chances of an alien incursion, and Simone's parents putting themselves in danger in Sharvin's ruins. This time, the chances of them reuniting have never seemed so far away.
Cyborg
by
Anna Hackett
is
book 10 of the
Galactic Guardians
series. It was released 1st April.
Cyborg is the story of Magnus Rone, the cool, emotionless cyborg imperator of the House of Rone, and human survivor Ever Haynes…who happens to be pregnant with his baby!
The Master and the Sorceress
by
Bernadette Rowley
is Book 4 of
The Wildecoast Saga
and was released on 16th April.
Desperate sorceress, Katrine Aranati, no longer knows how to deal with the woman she has become. She runs headlong into a man whose heart's desire is order and control. James Tomel, master jeweler, is outwardly a pillar of society but he hides more than one dangerous secret.
When they are thrown together on a trip to Brightcastle, fierce creatures from legend pursue them but even more dangerous are the feelings swirling between them. When their hearts and bodies come together, one will flee while the other demands an accounting. Can they find common ground where their love will flourish or will secrets and betrayal kill all hope of a life together?
Find out if love and chaos can defeat order and control in the fourth exciting instalment of the Wildecoast Saga.
Burned
by
Christina Phillips
is Book 3 in the
Viking Bastards MC
series. It was released by
Entangled Publishing
on 16th April.
Ty...
Ten years ago I offered her everything, and she threw it back in my face. When she walked, I vowed no other woman would ever screw with my head the way she did. I moved on. Now I'm the V.P. of the Bastards, run my own nightclub, and nameless sex keeps me sane. No commitment or ties, just the way I like it.
Now she's back, for one week only, gorgeous, successful, and I can't keep away. She offers a long goodbye, a way to heal our fractured past. She burned me so bad––there's no way I should even want to be near her. But the more she gives, the more I need. Until I discover the real reason she left, and my whole damn world implodes...
Nothing to Gain
by
Claire Boston
is Book 2 in the
Blackbridge
series. It is due was released by
Bantilly Publishing
on 10th April.
With sparks like these, someone's bound to get burnt...
Mai On is devastated when her landlord sells her building to a property developer and the bakery she's worked so hard to build is threatened. The last thing she needs is an outsider tearing down everything that matters to her. She's determined not to be swayed by the sexy, charming developer.
After costing his company millions of dollars, Nicholas Shadbolt is desperate to prove himself. Taking on the re-development of a rundown building is just the stepping stone he needs towards redemption. What he's not expecting is Mai's determination to save her livelihood--or the fire she ignites in him.
But attraction isn't all that's simmering in Blackbridge. Someone is out for blood. And when danger threatens the woman who's stolen his heart, Nicholas knows he has more at stake than just his reputation.
Deadly Secrets
by
Annie Seaton
was released by
Emerald Romance
on 6th April.
Two sisters...an innocent, and one who lives on the wild side.
From award winning author Annie Seaton, this intriguing romance will make you shiver with fear and warm your heart.
When Regan James is rescued from a seedy bar by her former partner, Rod Carruthers, he believes the worst of her as he always did. Can she convince him that she is not the bad girl he thinks she is—or does she really want to, now that Rod is mixed up in something mysterious?
When Regan disappears her sister, Gracie, leaves her outback school and heads for the hot tropics, but she's thrown into a world of sex, crime...and passion.
As much as Jake Alexander would like to kick Gracie off his boat, he knows he can't expose her to the dangerous world her sister has joined. Jake's attempts to keep Gracie safe quickly develop into a reluctant alliance. But Gracie finds herself knee deep in more trouble than she bargained for, with deadly secrets revealed.
Unless Jake and Gracie can find a way to trust each other, both sisters are in mortal danger.
PRE-ORDERS
Unlit
by
Keri Arthur
is Book 1 of
The Kingdoms of Earth and Air
series
and will be released on 16th May.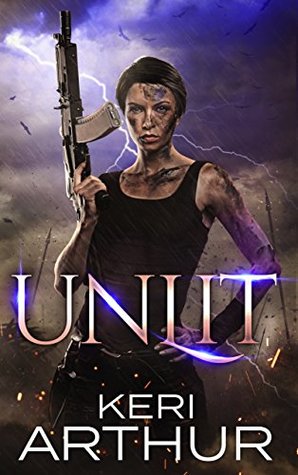 Winterborne has long been a city divided between those who have magic, and those who do not. Between those who are free, and those who are not…
Though classified as having no magic, Neve March can hear the whispers of the wind and sometimes even control her. But it's a secret she must hold close if she wishes to continue as Nightwatch—the soldiers who guard Winterborne against those who roam the wastelands and feast on human flesh. But when Neve investigates a faint SOS signal, she not only unearths a woman close to death, but a plot involving an ancient enemy long thought dead. In an effort to expose those behind the plot, Neve goes undercover amongst Winterborne's elite—a dangerous step that could expose her secret and rip away all that she holds dear. But the trail of treachery leads her from Winterborne's golden halls to the heart of the enemy's hive, and it will shake her belief of not only who she is, but what she is.
Playing God
by
Lana Pecherczyk
is Book 3 of
The Game of Gods
series
and will be released by Prism Press on 1st May.
HE ATE THE SOUL OF AN EVIL WITCH TO SAVE HER MENTOR, BUT AT WHAT COST?
Once confused with the enemy and abandoned by her father, Roo Urser spent most her life hiding her fearsome powers. But then she met Cash, a hunter with secrets of his own, who revealed her true purpose in life: to play the Game of Gods. Now she must use those powers to survive.
Forced to attend The Ludus and pitted against bloodthirsty contenders, freedom is only a few trials away. If Roo passes the trials, she can declare independent. If she fails… she faces a fate worse than death. Trapped in Urser House where her monstrous father is making secret deals threatening to topple the Game, and the world, Roo becomes determined to uncover his plans. Soon, failing is the last thing on her mind.
As lies and deceit surround her from all sides, Roo must decide who to trust amongst her powerful companions—her emotionally scarred mentor, her oddball brother, or her rival Players. But when the souls inside her battle for supremacy, her thoughts become unstable. How can she survive when she can't trust herself?
Beach Walk
by
Annie Seaton
is Book 3 of
The Bondi Beach Love
series and is due for release by
Emerald Romance
on 1st June.
Sonia Smith lives in the haunted house on the hill above Bondi Beach. Well, maybe it's not haunted, but the hint of a ghost in the old house where she reads tea leaves and tarot cards is good for business. When fashion designer, Dave Harris, turns up on Christmas Day, the last thing Sonia needs is a slick business man telling her what to do, how to improve her business, her fashion sense and anything else he has an opinion about.
Dave Harris needs help to organise his charity fashion show and he doubts if he can pull something different out of the box in time. A failed business venture in Japan has shattered his creative confidence. Maybe enlisting Sonia's help and her quirky ways, will get him out of trouble?
Can Dave convince her to help, but at the same time, can he avoid falling in love with this quirky woman?
Her Outback Playboy
by
Annie Seaton
is Book 1 in the
A Second Chance Bay
series and is due for release by
Emerald Romance
on 15th June*.
(*please note change from original post which said it was to be released by Entangled Publishing on 14th May)
Jenni Douglas' family have worked hard to build their fishing and charter business in the remote coastal outback town of Second Chance Bay.
Jake Jones, her childhood sweetheart, was once the poor boy from the wrong side of town. When he blows into town after making his fortune and expects to pick up where they left off, Jenni fights every move he makes.
Jake knows that Jenni will always see him as a playboy, and can't trust him, and his self confidence disappears when the town judges him on his past. Every time he tries to help her family business, she sees an ulterior motive.
If Jenni can't trust him, what is there to keep Jake in Second Chance Bay?
But can he leave the woman he loves a second time?
His Outback Temptation
by
Annie Seaton
is the 4th and final book in the
Prickle Creek
series and is due for release by
Entangled Publishing
on 14th May.
Freelance photographer Sebastian Richards has put aside travelling the world to show his grandmother he is capable of helping out on the family farm, even though it's hard to let go of his wanderlust. But when he rescues a beautiful woman from a difficult situation, and Sebastian learns Isabella Romano is going to his hometown, heading back to Prickle Creek holds more appeal.
Isabella has come home to the Outback for a short visit to her father before she heads off to begin her dream job in England. Circumstances throw Isabella and Sebastian together at every turn—so maybe a short summer fling could be fun?
Isabella is determined to leave, even though her heart wants to stay. Sebastian is determined to stay, though his heart wants to go. But the only way for them to be happy is to take a chance on love.
Pre-order coming soon.
FREE SHORT STORY
Midnight Mass
is a short story by
Efthalia
featuring characters from her Phi Athanatoi series. You can find the story on
Efthalia's blog
.
Congratulations to all our DarkSiders!
Thanks for joining in our news. We'll see you next time...