Welcome to the latest DarkSider News!
More February goodness ...
Dear Tiger: I Miss You
by
Carlie Simonsen
is book 1 in the
Tiger Letters
series. It was re-released by
C.M. Publishing
on 9th February.
"Dear Tiger, this has been the best day ever… but I lie."
Simone Michaels is in trouble, but she doesn't know how deep. Her parents' expedition has gone missing, and that she's afraid she'll go missing, too. Will she get the chance to see her mum and dad, again?
Reluctant Liaison

by C.M. Simpson

is a urban fantasy short story

released by

C.M. Publishing

on 2nd February.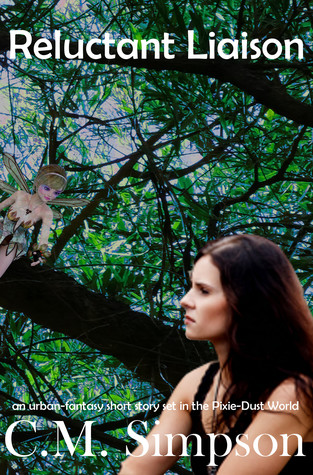 I woke up in a car—upside down, staring into the faces of a half dozen pixies sitting on a tree branch. To one side, was a cliff face, to the other, sky, and things were starting to shift. Apparently, I'd had an interesting night… if only I could remember what it was, and why I'd run, and why following the pixies scared me almost as much as the idea of staying in the car…
In Reluctant Liaison the Paranormal Operations Squad is faced with a dilemma outside their usual remit, when Otherworld and 'real' world cultures clash.
Alien Mine
by
Marie Dry
is now available in audio format. It was released on 7th February by
Blacks Opal Books
and is narrated by Anne James.
In a bleak future where government systems are breaking down and lawless bands of men terrorize the country, botanist Natalie Hanson fears for her life and hides in a cave in the Rocky Mountains. When she is captured by human raiders, a fierce alien appears and slays her attackers. Natalie is now held captive in her own cave by the sexy and striking alien commander, Zacar, who informs her that she will be his breeder. Natalie soon realizes that these aliens worship strength. So what will happen when Zacar finds out she has severe asthma?
Available from: Audible US

Granny Finds a Gas Mask by Carlie Simonsen is book 1 in the Tiger Letters series. It was released by C.M. Publishing on 17 February. It's a YA title.
Helping Gran is a chore, but with her holding their mobile phones hostage, Gareth and Giselle have no choice. Unpacking boxes of books is no surprise. Unpacking the gas mask is—and so is finding themselves back in the war, in Gran's war, because 'some things are meant to be changed'. How on Earth, does Gran expect them to help with this? Better yet, how on Earth, can they get back home?
Non-paranormal title
Cinderella and The Geek by Christina Phillips is book 1 in the British Bad Boys. It was released by Entangled Publishing on 19th February.
I'm not looking for love or a Happily-Ever-After because I know how that ends. I just need to concentrate on my degree and look after myself. But there's something about my boss, Harry, I can't resist. It's crazy since he's so hot and smart it should be illegal.
And then, just like Cinderella, I have my night at the ball and a midnight kiss, and for a week all my sexy daydreams come true. That fake date changes my life in a way I could never imagine. It turns out, Harry wants me too.
But I'm off to pursue my dreams, and he's taking his business to the next level. There's no way this fairytale has a happy ending, but that doesn't keep me from wishing for it.
Loving Memories
by
Imogene Nix
will be re-released by
Beachwalk Press
on 19th February.
A second chance at love could come with a killer price tag.
Jenny Douglas has the grim task of returning her friend's body to the man she loved.
Steve Davies is grieving for the woman he lost while trying to care for the foster child she left behind—a little girl he has come to think of as his own.
But after Cara's murder, Jenny and Steve must work together to find out who the killer is. And if a little bit of passion gets in the way, well…it's not the real thing…or is it?
Content Warning: contains sexual content, and mental health issues that some may find confronting.
Buy links available on Imogene's website.
It's currently on sale for US 99c
Tomorrow's Promise
by
Imogene Nix
will be re-released by
LovesBooks Publishing
on 1st March.
Life's pretty much thrown everything it can at David: His wife, Karin left him after their child died. Watching his best friend marry his ex-wife sums up the ruins of his life. Attending the wedding could sink him further.
Being a bridesmaid at her best friend Michael's wedding, wasn't on Genie's bucket list. No, she'd rather be his bride. Watching the man she's lusted after, for more years than she'd like to admit, marry another woman, was not the highlight of her life. But meeting the brides ex-husband might be.
Caution: There are some themes in this story that people could find offensive.
COVER REVEAL
C.M. Simpson: Short Work from 2017 - Fantasy & Urban Fantasy
by
C.M. Simpson
has a cover. Details of publication as it comes to hand.
The Master and the Sorceress
by
Bernadette Rowley
has a cover and blurb. No release date yet.
Desperate sorceress, Katrine Aranati, no longer knows how to deal with the woman she has become. She runs headlong into a man whose heart's desire is order and control. James Tomel, master jeweler, is outwardly a pillar of society but he hides more than one dangerous secret.
When they are thrown together on a trip to Brightcastle, fierce creatures from legend pursue them but even more dangerous are the feelings swirling between them. When their hearts and bodies come together, one will flee while the other demands an accounting. Can they find common ground where their love will flourish or will secrets and betrayal kill all hope of a life together?
Find out if love and chaos can defeat order and control in the fourth exciting instalment of the Wildecoast Saga.
Guardian
by
Anna Hackett
is
book 9 of the
Galactic Guardians
series. Due for release 6 March.
Non-paranormal title
Hot Tokyo Nights
by
Dakota Harrison
has a tentative release of 1st March.
After her humiliating divorce, Mya Montgomery runs back to the only place she's ever truly thought of as home – Tokyo – and to the yakuza family who filled the void in her heart after the death of her parents. A new life lies just out of reach, but maybe propositioning a delicious yakuza punk to show her the hottest night of her life isn't the best way to find it.
​Shin Nakamura wants out of the family business – for good. His thriving night club in the popular Shibuya district is his ticket out of the hell his life has become. But Shin is tied by the dictates and obsessions of his older brother Hiro to a web of Family obligation. Mya's return destroys all Shin's certainties, though more than ever she is firmly out of reach. When Shin stumbles upon Hiro betraying the Family, the consequences of keeping that information quiet places Mya directly in the line of retaliation.
​Shin has one chance to make things right and save the woman he has come to love above all else – family, honor, and even his own life – but will he find her in time?
PATREON
Hood and the Highwaymen
isa story
TJ Nichols
will be offering via their
Patreon
page. After each part, three different options will be offered to vote on, so patrons get to help choose the direction of the story.
The cover for
Sabrina and the Gargoyle
is also up for nomination over at
The JABBIC Awards
.
Beneath the Floating City and other science fiction stories
by
Donna Maree Hanson
has been nominated in the '
Best Collection'
category in the
Aurealis Awards.
This book is free to newsletter subscribers and it's for sale in ebook everywhere for $2.99 USD. To sign up to Donna's newsletter, click
Here
.
Pages updated:
Rhyll Biest
,
Cassie Laelyn
,
Enisa Haines
.
Congratulations to all our DarkSiders!
Thanks for joining in our news. We'll see you next time...