Welcome to the latest DarkSider News!
The year is rolling off to a great start ...
NEW RELEASES
The Queen's Game
by
C.M. Simpson
is a short story set in the
Pixie Dust and Trollhunter world
, and explores the darker side of the Trollhunter tales. It was released by
C.M. Publishing
on 5th January.
Never get involved with the Otherworld Fey. Take my word for it. I saved the Queen of Summer, and was betrothed to a lord of Winter by way of thanks—and then the human underworld got involved. So what do I do, when every choice is bad? What would youchoose: death by troll, or the mercy of an elf?

Heroines & Hellions
is a box set of which contains the story
Dead Certain
by
Kim Cleary
.
It was published on
on 2nd January.
NO DAMSELS ALLOWED!
22 Kickass Heroines.
22 Exclusive, Full-length Urban Fantasy and Fantasy Novels.
0 Damsels in Distress.
Do you like your leading ladies to save the day...or raze it?
No matter which you prefer, this set is brimming with 20 magical stories (many BRAND NEW) told by some of the leading voices of urban fantasy and fantasy in the industry, including several New York Times and USA Today bestselling authors!
If you want strong female leads who strike back against the captivating worlds of vampires, elementals, fiends, and paranormal monsters, then you're ready to charge into the adventures of HEROINES & HELLIONS, a pure Urban Fantasy/Fantasy collection!
A Planet's Ransom

by Carlie Simonsen

is book 2 in the

Space Adventure

series. It was released by

C.M. Publishing

on 13th January.
Made hostages for a world whose international leaders didn't know how to behave, we ended up on a new world, one we have to make our own, where every step of civilisation has to be earned, all over again. It's meant to be a world to hide the secret of our survival—but not all the aliens believe we have a right to survive. Torn between two rival factions of an alien race, we have to save our keepers, defeat our hunters, and get a message to the stars.
And that's just if we want to live.
Non-paranormal titles
Secret Confessions: Down and Dusty
is the complete collection of short stories including one by our own
Mel Teshco
and
Rhyll Biest
AND
Elizabeth Dunk
(aka Nicole R. Murphy).
It was published by
Escape Publishing
on 12th January.
Welcome to the heart — and heat — of Australia…
They say that no one has secrets in a small town — these women prove them wrong.
Eight stories from some of Australia's hottest writers in Australia's hottest genre. From the bar stools of the local pub to the wide open plains of the biggest stations in the world, these tales travel the dusty roads to the heart of Australia and the women who understand how to work hard — and play even harder.
In the latest in the wildly successful Secret Confessions series from Escape Publishing, the women of Down & Dusty invite you into their lives — and their bedrooms.
Casey: Rachael Johns
Lucky: Cate Ellink
Kelly: Fiona Lowe
Brooke: Eden Summers
Clarissa: Mel Teshco
Skye: Rhyll Biest
Maree: Elizabeth Dunk
Frankie: Jackie Ashenden
His Outback Nanny
by
Annie Seaton
is book 3 in the
Prickle Creek
series. It was published by
Entangled Publishing
on 15th January.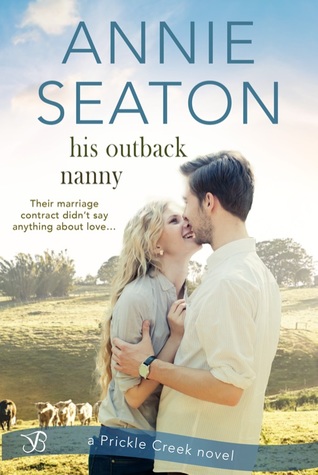 Jemima Smythe is over the world of fashion. But when her dream of teaching falls through, Jemmy is determined to show her hometown she's ready to put down roots. Three beautiful and boisterous kids in need of a nanny offer her an opportunity to prove just that. But their smoking-hot dad, Ned, offers her another—become his wife, as a matter of convenience only.
Ned McCormack is at his wits' end. A single father to three kids, he quit the city and moved home to the Australian Outback in order to spend more quality time with his family. Unfortunately, the farm needs a lot of work. Just when he's ready to give up, help comes unexpectedly in the form of a supermodel mistaken as his wife-to-be.
Not a bad arrangement, if only they can stick to the rules of their strictly-business marriage—no kissing and absolutely no falling in love allowed.
SAMPLE CHAPTERS
Dirty Sexy Space: First Chapter Collection
by
Mel Teshco, Shona Husk, and Denise Rossetti
is a collection of -you guessed it- first chapters of all the books in the the
Dirty Sexy Space
series (previously published as the ES Siren series). The series will be coming in February.
The titles are:
Yours to Uncover
Yours to Command
Yours to Desire
Mine to Hold
Mine to Keep
Mine to Serve
Ours to Embrace
Ours to Share
Ours to Save
PRE-ORDERS
The first three books in the
Dirty Sexy Space
series are available for pre-order now. They expected for publication on the 5th February.
Yours to Uncover
by
Mel Teshco
is book 1.
He's a hardened criminal … and her biggest ally.
It's the year 2202. Earth is grossly overpopulated and seriously polluted. Rita Songworth has spent half her twenty-two years trying to escape the dying planet. It's taken the last five of those years to realize making it in the hard-ass infantry is her only way out, via space transporter Earth Ship Siren.
But the journey to Unity, the new colony, isn't easy. Rita has to resist an attraction to hard, brutish prisoner, Tristan MacFallan, whose masterful hands create more than the beautiful art he's been assigned to make. His forbidden touch affects her profoundly and he sees things in her no man ever has before. But obeying Zane, her ex-lover and malicious lieutenant, who is appointed to keeping the prisoners under guard, comes at a high price.
Is she willing to sacrifice everything to keep her secret and her lover safe?
Yours to Command
by
Shona Husk
is book 2.
He would do anything to protect her, if only she'd let him.
Corporal Sienna Jade wasn't given a choice about joining the mission to Unity. Seen as a troublemaker by the military after reporting an assault by a senior officer, the army wanted her gone. Sienna resents the army for assigning her to Earth Ship Siren, and suspects the fleet's Unity mission will fail. But others would do anything to escape Earth ...
Alex Tariel knew his only chance to get a place on ES Siren was as a prisoner, so he stole water rations. As a former construction foreman, his skills make him a valuable prisoner on board, but still a prisoner unable to control his own life. Instead of keeping his head down, he gets involved in the boxing fights set up for gambling privilege tokens, the only currency aboard ship among the prisoners.
Getting patched up by Corporal Jade might be the best thing that's happened to Alex on the trip so far, but becoming her ship husband puts him between her and the lieutenant who tried to kill her for kicks on Earth. While Sienna tries to keep control of her feelings for Alex, Alex would do anything to protect her, if only she'd let him.
As ES Siren faces its first crisis, a little trust and love goes a long way
Yours to Desire
by
Denise Rossetti
is book 3.
A man more potent than any drug.
It's 2202 and on board ES Siren, the brilliant Doctor Lily Kwan has worked in secret to develop an antidote for the aphrodisiac rape drug, sexmeth.
She'd be overjoyed if it wasn't for an embarrassing problem: the antidote has no effect on her extraordinary reaction to Connor Madison, the Siren's tough quartermaster. Scientifically, it should be impossible, but the man's a raging fever in her blood. If a single dark glance sets Lily on fire, a kiss might kill her dead – but what a way to go!
A former gang rat from the slums of a dying world, Con came up the hard way, so when geeky Doctor Kwan tops his hit list of possible drug runners, nothing's going to save her—not her family's money, nor her clever mind.
Not even the smile in her eyes.
AUDIO NEWS
Break the Rules by Clare Boston is now being made into an audio version and will be released in 2018. It is book 1 of The Flanagan Sisters.
Bridget Flanagan knows how to assess risks, but are the consequences of exposing her heart too dangerous?
Bridget has a passion for safety and in the world of oil refineries that makes her great at her job. So when her big promotion goes to someone else, she heads out on the town to forget her troubles. Jack Gibbs seems like the perfect man to distract her.
At least until Monday morning when she discovers Jack is her new boss. There's no way she's going to keep seeing him, no matter the connection between them. She's been burned before.
Jack can't understand why Bridget's so against their relationship. They positively sizzled during their one night together. He knows he has to be careful now she reports to him, but she tempts him in every way.
Can Jack convince Bridget to give him a chance, or is the risk too high?​
Congratulations to all our DarkSiders!
Thanks for joining in our news. We'll see you next time...