Welcome to the latest DarkSider News!
Time for some holiday cheer!
NEW RELEASES
The Trading Game: Zach
by
Ellie Moonwater
is Book 2 in
The Mentraden Training Centre
series. It was released by
C.M. Publishing
on the 15th December.
Zach has been searching for a Dom to partner for a very long time, a partner he can give control to, knowing they can be trusted to be in charge. Agathia looks like she can more than fill the role, right up until Zach discovers she's not alone, and he has two partners to deal with, instead of one…and then the shape-shifting shen take the ship, and things get complicated.
The Trading Game is an erotic science fiction adventure story, containing elements of romance, light bondage, slave-capture fantasy, multiple partners, mfm partnering, bondage, and explicit, kinky and consensual sex, as well as gun fights, fist fights, and underhanded dealings.
Dahlia
by
Mel Teshco
is Book 4 in the
Dragons of Riddich
series. It was published on 13th December.
The dragons will search the universe for their one true mate...
Dahlia Mannett was a princess on her planet, Riddich. Now all she wants on Earth is to be normal and not hunted by the evil Tantonics, who prey on her people for their power. But somehow she ends up in a bikini and on the catwalk for famous designer, Lincoln Hillier. Turns out he's also the one man to bring out her inner dragon—a miracle considering no Riddich male achieved that same result.
But even if Lincoln is Dahlia's one true mate, how can she expect him to give up everything and everyone he's ever known for an alien woman … a woman who jeopardizes his life just for being with her. Because the Tantonics will destroy anyone who gets in the way of their goal to drain the Riddichians of their power.
Lincoln thought he'd had everything, until he saw Dahlia. Now she's all he wants, and he's happy to give up his worldly possessions to stay with her. An existence without her in it wouldn't be living, and he's willing to risk it all to prove it. She's his life mate … and she's all he wants.
Non Paranormal titles
A Very Aussie Christmas
is an anthology by the Breathless In the Bush, including our own
Enisa Haines
.
It was published 12th November.
Restore your faith in the power of the human spirit with warm-hearted romances from Breathless in the Bush writing group. Celebrate the joy and occasional heartache of the festive season, where love shines through against the odds.
War Games
by
Jess Anastasi
is Book 4 in
Valiant Knox
series. It was released by
Entangled Publishing
on the 3rd December.
When one of her pilots is shot down behind enemy lines, Lieutenant Theresa Brenner will stop at nothing to save her before she's captured and tortured, even if it means being part of the dirtside team led by Colonel Cameron McAllister. Bren might respect the way the colonel commands his men, but she'll never trust Cam—no matter how charming he is—because he was responsible for her brother's death.
Colonel Cameron McAllister has a covert mission behind enemy lines to team with the Ilari rebels and overthrow the bloodthirsty dictator who's torn their planet apart. The last thing he needs is to get sidetracked searching for a downed pilot, especially since it means having Lieutenant Theresa Brenner tag along. Not only doesn't the frosty pilot have the ground game to keep up with his seasoned group, she's a potential distraction with all those gorgeous blond curls of hers—and she might be just like her brother, whose foolhardiness got his men killed.
Details of book 3 is in the Previous 2017 section.
No Place Like You
by
Emma Douglas
is Book 3 in the Cloud Bay series. It was published on 5th December by St Martin's Press.
Home--in the island village of Cloud Bay--is where the heart is. . .
Leah Santelli always knew that Zach Harper, son of a rock legend and her best friend's brother, was painfully out of reach. Then, on the night of her eighteenth birthday, Leah shocked herself by asking for--and receiving--the gift she wanted: one night of passion with Zach before he left town to pursue his rock star dreams. Now, years later, Zach is back in Cloud Bay to record his first solo album. His return could also be Leah's big chance to step up her own music career. But getting the producing credit she needs means spending long hours with Zach in the recording studio...and falling back into the habit of longing for him, for better or worse.
Zach used to believe that a man must put his past behind him. But coming back home for Cloud Bay's famed music festival has allowed him to finally make amends with his family and, much to his surprise, reunite with Leah. He might have left her once but now it seems he can't stay away. Trouble is, even though the heat between them burns hotter than ever, Leah has old wounds in need of healing before she can give Zach a real chance. Can he find a way to convince her that they can make more than just great music together--and that she's the one that he wants for all time?
PRE-ORDERS
Secret Confessions: Down and Dusty
is the complete collection of short stories including one by our own
Mel Teshco
and
Rhyll Biest
.
It will be published by
Escape Publishing
on January 12th 2018.
Welcome to the heart — and heat — of Australia…
They say that no one has secrets in a small town — these women prove them wrong.
Eight stories from some of Australia's hottest writers in Australia's hottest genre. From the bar stools of the local pub to the wide open plains of the biggest stations in the world, these tales travel the dusty roads to the heart of Australia and the women who understand how to work hard — and play even harder.
In the latest in the wildly successful Secret Confessions series from Escape Publishing, the women of Down & Dusty invite you into their lives — and their bedrooms.
Casey: Rachael Johns
Lucky: Cate Ellink
Kelly: Fiona Lowe
Brooke: Eden Summers
Clarissa: Mel Teshco
Skye: Rhyll Biest
Maree: Elizabeth Dunk
Frankie: Jackie Ashenden
His Outback Nanny
by
Annie Seaton
is book 3 in the
Prickle Creek
series. It's due for release by Entangled Publishing on 15th January.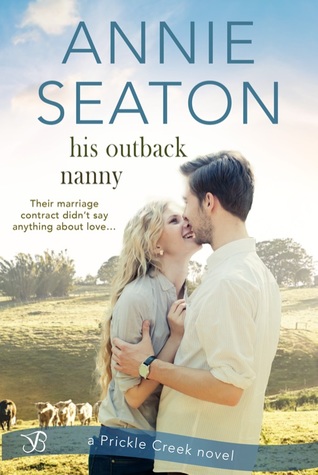 Jemima Smythe is over the world of fashion. But when her dream of teaching falls through, Jemmy is determined to show her hometown she's ready to put down roots. Three beautiful and boisterous kids in need of a nanny offer her an opportunity to prove just that. But their smoking-hot dad, Ned, offers her another—become his wife, as a matter of convenience only.
Ned McCormack is at his wits' end. A single father to three kids, he quit the city and moved home to the Australian Outback in order to spend more quality time with his family. Unfortunately, the farm needs a lot of work. Just when he's ready to give up, help comes unexpectedly in the form of a supermodel mistaken as his wife-to-be.
Not a bad arrangement, if only they can stick to the rules of their strictly-business marriage—no kissing and absolutely no falling in love allowed.
In Full Flight

by Carlie Simonsen

is book 3 in the

Wings

series. Details of release coming soon.
Jack's dad has a secret—a sad secret. He has never told Jack how he lost his wings. One day he does, and Jack's world changes. At the same time, someone from his parents' past comes into their present, and they must work out how to stop things from the past happening all over again.
A Planet's Ransom

by Carlie Simonsen

is book 2 in the

Space Adventure

series. Details of release coming soon.
Made hostages for a world whose international leaders didn't know how to behave, we ended up on a new world, one we have to make our own, where every step of civilisation has to be earned, all over again. It's meant to be a world to hide the secret of our survival—but not all the aliens believe we have a right to survive. Torn between two rival factions of an alien race, we have to save our keepers, defeat our hunters, and get a message to the stars.
And that's just if we want to live.
Welcome to the Fruit Platter

by Ellie Moonwater

is book 2 in the

Downtown Weres and Wizards

series. It will be released by

C.M. Publishing

in January 2018.
Swept into a whirlwind courtship with two werewolves, Louise has just one problem—the secret she is keeping from the pack. When her mates discover what she's been holding back, will they stand by her? And what of the pack? Louise must choose: trust in them, or run? Either way, a sanctuary seems a lifetime away.
WARNING: Welcome to the Fruit Platter contains explicit, consensual and kinky sex, some spanking, two very lust-driven werewolves, multiple scenes of menage, mfm, and some wizards on the prowl.
The Queen's Game

by C.M. Simpson

is a short story set in the

Pixie Dust and Trollhunter world

, and explores the darker side of the Trollhunter tales. t It will be released by

C.M. Publishing

in January 2018.
Never get involved with the Otherworld Fey. Take my word for it. I saved the Queen of Summer, and was betrothed to a lord of Winter by way of thanks—and then the human underworld got involved. So what do I do, when every choice is bad? What would youchoose: death by troll, or the mercy of an elf?
366 Days of Flash Fiction

by C.M. Simpson

is a flash fiction anthology. It will be released by

C.M. Publishing

in December 2017.
Inside these covers is a short story for every day of the leap year, some of which tell of the fantastic, others which take us to the stars and a myriad of other world, and still others that horrify with creeping tales of the undead. Every story is an exploration of something that might have been and never was, or something that might yet be. Take a break from the world that is, and explore other possibilities.
SALES
Beauty and the Geek
by
Christina Phillips
has been sold to Candace Havens at Entangled Embrace for a publication in 2018.
It is a New Adult romance series, in which a studious nineteen-year-old agrees to a fake date with her secret crush, who also happens to be her boss, but things get complicated when their kiss goes viral.
PREVIOUS 2017 RELEASES
Diffraction by Jess Anastasi is Book 3 in Atrophy series. It was released by Entangled Publishing (Select Otherworld) on the 2nd January.
After his unusual reaction to a weapon, Commando Varean Donnelly is accused of being a shape-shifting alien and imprisoned onboard the Imojenna. Sure, he has abilities he keeps hidden from everyone--including the gorgeous doc examining him--because the government makes sure people as different as him disappear. For good.
Imojenna doctor Kira Sasaki knows there's something different about the handsome commando the captain's thrown in their brig. She doesn't think he's Reidar, although he might have been a victim of their cruel experiments. But when Kira learns the stubborn commando's racial make-up, she finds herself torn between defending him to Captain Rian Sherron and his crew or urging Varean to escape while he still can.
Freeman's Choice

by C.M. Simpson

was released by

C.M. Publishing

on 11th August.
When Lorellan Cartwright finds buying back the woman he loves an impossible task, he promptly steals her away, but escaping from the criminally minded third duke of Aristoc and reaching a place of safety are two very different things. And stealing from the duke embroils Lorellan and Megan in the politics of crime lords, long forgotten races of fantasy, aliens and interstellar law enforcement. Can they escape the tangled webs woven by others and find refuge? Or will they join the ranks of those who tried before and failed?
Non Paranormal title
Shelter
by
Rhyll Biest
.
It was published by Escape Publishing on 15th February.
Raw and risky, a new rural romance that explores the dark side of small towns, and the people who put everything on the line to protect them...
Kat Daily is excited to trade her Sydney airport quarantine uniform for an RSPCA inspector's uniform and a job in the rural town of Walgarra. A fresh start in a new place, where she can make a real difference in the lives of the animals that she loves.
But Walgarra doesn't offer a peaceful, bucolic existence. Like many small towns, the distance from urban settings — and urban law enforcement — has allowed a criminal element to set in. Kat may only be looking after animals, but that doesn't mean she will be immune to people with sinister agendas.
The previous RSCPCA inspector was murdered, and Officer Luka Belovuk is determined to keep the new inspector from the same fate. He may have very broad shoulders, but carrying the safety of the law-abiding community just trying to live their lives has weighed him down, and one more death might be more than he can take.
Not all small towns are quaint and quiet, but they all have one thing in common: a community of people willing to protect their population with everything they have.
Cover Fire
by
Jess Anastasi
is Book 3 in
Valiant Knox
series. It was released by
Entangled Publishing
on the 19th June.
He will protect her with his life... but who will protect his heart?
​
If the assignment is crazy, dangerous, or a little of both, Sub-Lieutenant Sebastian Rayne can't help but take on the challenge. So when Command Intelligence tags him to fly one of their agents behind enemy lines, it seems like just another routine death-defying mission. Crash landing on the planet was a piece of cake, but the gorgeous agent he delivered safely to her meeting is now believed dead and he must return to retrieve her body.
After Agent Jenna Maxwell realizes her own people attempted to have her killed, she enlists the hot stick jockey's help. His new mission? Sneak her back onto his ship to ferret out who wanted to get rid of her and why. But she fears her growing feelings for Seb have blinded her to his reckless insistence on helping her stay alive, and his rash behavior will cause them both to lose their lives.
WEBSITE UPDATES
Updated pages since the last DarkSider News:
Enisa Haines
,
Denise Rossetti
, and
Rhyll Biest
.
Congratulations to all our DarkSiders!
Thanks for joining in our news. We'll see you next time...